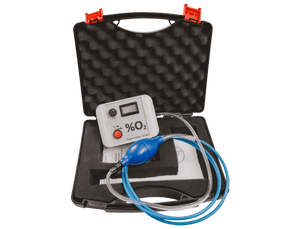 This GrainPro Oxygen Analyzer is capable of measuring oxygen levels within 0 to 21% range, essential for modified and controlled atmospheres such as inside Ultra Hermetic storage units. High concentrations of carbon dioxide do not affect the sensor's life span and accuracy, making it perfectly suitable for monitoring gases inside GrainPro Cocoons. The analyzer can be used at high elevations without the need for any correction.
The design of the analyzer is kept as simple as possible to reduce the chances of breakdowns, as well as to maximize its cost-effectivity. This device converts O2 in the air into a digital signal that can be measured.
The GrainPro Oxygen Analyzer sensor is durable with 5-year longevity.